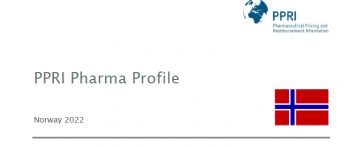 The PPRI Pharma Profile on Norway provides a comprehensive overview of the Norwegian pharmaceutical pricing and reimbursement system.
It is part of the PPRI Pharma Profile series which was developed by the PPRI Secretariat to respond to the interests and needs expressed by researchers, technical experts and decision makers for accurate and up-to-date information on the pricing and reimbursement of medicines (and medical devices) in a country.
PPRI Pharma Profiles and other reports are written by members of the PPRI network, including national country experts, such as staff of competent authorities for pharmaceutical pricing and reimbursement (Ministries of Health, Medicines Agencies, Social Health Insurance institutions).
PPRI Pharma Profiles are also available for other countries here.